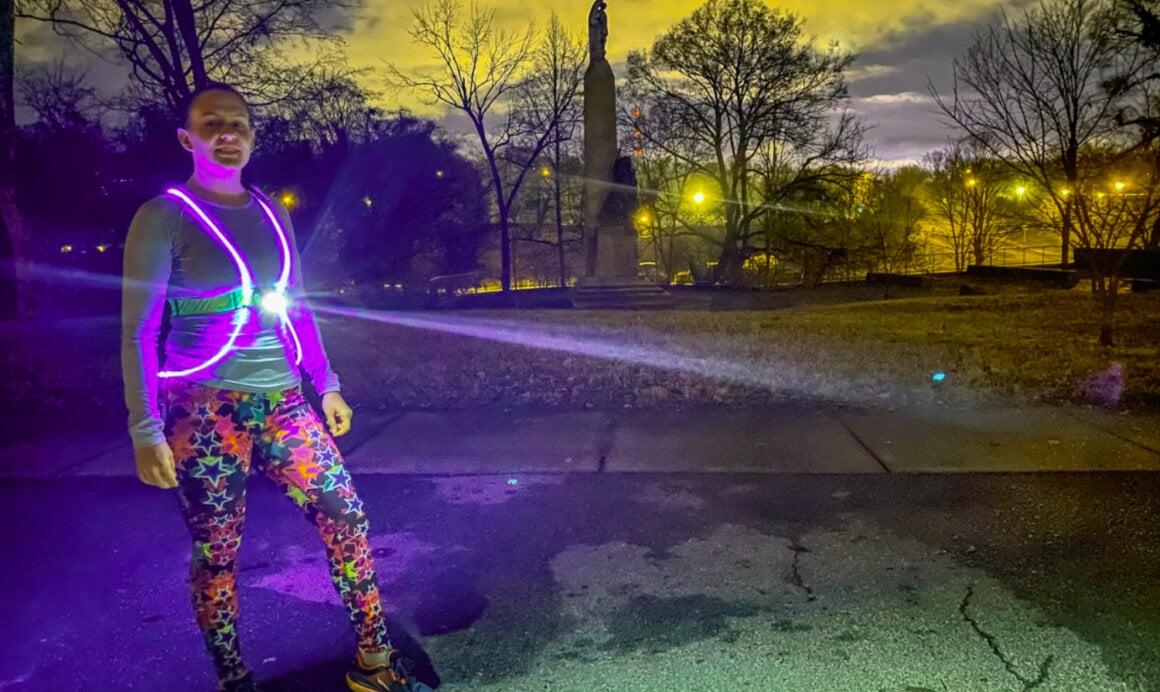 Run in the Dark? This is the Best Nighttime Running Gear You Need
Finding the best nighttime running gear is essential for anyone who runs in the early morning or late evening hours.
Staying safe while running should always be priority number 1. For example, if you're a runner who prefers running in low light conditions, you must be highly visible to motorists.
Finding the right gear that you can trust is half the battle. So let's dive in and get you on the path of being safe and seen on the run.
Why Do Runners Run in the Dark?
Runners opt to run in the dark for several reasons, including:
👉🏼 Fitting a run in a busy schedule.
👉🏼 Beating the heat in the warm summer months.
👉🏼 Prefer sticking to a morning run routine.
👉🏼 Prefer running in the evening hours to release workday stress.
👉🏼 Unable to beat sunset on the days with less daylight in the fall and winter months.
Beyond these reasons, you may have a few rationales for why you prefer running at a particular time of day.
While there are certainly a few runners who find night running exciting, most agree they feel safest when running in the daylight, but running in darkness is sometimes unavoidable.
But if you must run in the dark, how do you do it?
How Do Runners Run in the Dark?
Runners need to be strategic to make running in the dark attainable.
Intelligent runners know to run in an area they're familiar with, and many wisely choose to run with friends for added safety.
They also know to make themselves highly visible to motorists if running near a road in the dark. Being well-prepared with the proper nighttime running gear is crucial.
Experienced runners understand the dilemma of running in darkness and trying to see the path in front of them. A running light is another way runners make running in the dark doable.
How Do You Run in the Morning When It's Dark?
Whether you run in the early mornings to clear your mind before a busy day, find the time to follow a 10k training plan, or because that's when your running group meets, you'll need to plan for the darkness.
Ensure you know the route you're running in the dark. This is essential. Knowing the path will help you be prepared for the terrain you'll be running and know where there may be uprooted sidewalks or other obstacles.
Nighttime running gear is crucial for morning runners to ensure motorists see you.
You can choose your clothing wisely for your morning run. Because you'll be running before sunrise, you'll want to wear the proper clothing to help you stay warm or cool, depending on the season.
The Morning Running Gear You Need
The gear you use for a morning run will be similar, if not identical, to what you need for an evening or night run.
You should have reflective clothing, a visibility vest, and a running light like the Tracer Lamp.
In addition to this running gear, you'll also need to plan appropriately for the weather.
When running in the warmer months, the temperature may be very cool before sunrise. However, it may warm up once the sun climbs into the sky. So it's helpful to wear layers you can shed for a run in this type of weather.
Is Running at Night OK?
With the right gear and considerations, running at night is undoubtedly ok and even preferred by some runners.
Keeping yourself safe while running at night may pose some difficulties. For example, you'll need to be sure you have the right nighttime running gear, keep your eyes and ears open to your surroundings, and consider running with a buddy for optimal safety.
Learn how to stay safe, and you may find that night running is ideal.
How to Stay Safe When Running at Night
The rules for staying safe when running at night are the same as running in the early morning darkness.
✔️ Stay alert.
Don't run with headphones that block your hearing. Instead, you'll want to hear your surroundings to keep yourself safe.
✔️ Run a familiar route.
You'll be prepared for different safety scenarios when you know your route. For example, knowing where you can cut your run short or where you need to be extra cautious is helpful for night running.
✔️ Choose comfortable clothing.
Be sure that you're entirely comfortable on each run.
Running at night means planning for the elements. When heading out for a run around sunset, the conditions will get darker as you continue. Darker can also mean colder, so having layers may be necessary.
✔️ Invest in reflective clothing and gear.
The best way to be visible to motorists is by using reflective clothing and gear.
From your shoes to the water bottle you carry on your run, great reflective clothing and gear options help you stand out.
✔️ Invest in the best nighttime running gear.
Gear explicitly designed to keep runners safe in lowlight conditions is priceless. So if you're running at night, get the things proven to help you stay safe.
Following every running safety tip you know will make running at night more feasible.
What Should Runners Wear at Night?
Runners need to wear anything that makes them highly visible at night.
This could mean reflective gear, bright-colored clothing, and flashing lights. Anything that will draw attention from motorists is helpful for night running. Refuse to be overlooked, and you'll be able to run safely at night.
In addition to the clothes you can wear to help you stay safe, you can also find helpful night running gear that will increase your ability to stay safe on the run.
The Best Gear for Running at Night
You might already know what running gear you need for running at night.
But do you know what the best nighttime running gear is?
The best running gear should be comfortable and easy to use. No one should be running in the dark and struggling to carry or wear their gear or finding it difficult to use.
As we've already discussed, being highly visible is vital for safe night running.
⭐️ Reflective gear
⭐️ Running visibility vest
⭐️ Running light
Noxgear has secured all aspects of these crucial nighttime running gear necessities.
By using the Noxgear Tracer2 running vest, you can have confidence that motorists will see you no matter how dark it is on your run. The vest band is highly reflective, and the LEDs are big and bright while supplying 360° coverage.
For additional reflective details, Noxgear has designed shoulder reflectors.
These reflectors attach to the Tracer2 LEDs on your shoulders using snaps. Wearing the shoulder reflectors while running an overnight race, such as a Ragnar, will help you be even more visible and meet the race requirements for safe night running.
What about the running light? In early fall 2022, Noxgear released the newest nighttime running gadget that all runners should have – the Tracer Lamp.
Essential Night Running Gear: a Light
If you're going to run safely at night, you need to see the ground in front of you. There's no way around that. But sometimes, this isn't so easy.
Between cloudy morning runs, very dark evening runs, or oncoming traffic headlights that make it challenging to see the next step in front of you, seeing the ground can be near impossible.
This is what makes a running light invaluable. The Tracer Lamp is an especially great light for runners that own the Tracer2 vest and those considering getting one.
The Tracer Lamp provides runners with two brightness settings – 250 and 500 lumens.
The Lamp easily attaches to the buckle of your Tracer2 by clipping into an included holder. If you should need to use the Tracer Lamp as a handheld flashlight, the device can be pulled out of the holder for quick access.
The Tracer Lamp is lightweight, bright, and stays in place with no bounce. This makes it worthwhile whether you're running near a road or on the trails in times of low light.
How Many Lumens Do I Need for Night Running?
To see well enough to run safely, you'll want to have a running light that offers a minimum of 200 lumens.
Although you may be able to see decently using a running light that provides fewer lumens, this is the sweet spot for complete clarity of the path in front of you when running in the dark. This is why the Tracer Lamp is the best light for night running.
With 250 lumens, you can run for 5 hours on a single charge. If you need more light, you can switch to 500 lumens for two and a half hours of usage.
Final Thoughts: The Best Nighttime Running Gear
Runners must always consider how to keep themselves safe while running. If you're only able to run during times of low light and darkness, you'll need to be extra bright to keep yourself safe. Being seen and being able to see are two critical aspects of safe nighttime running.