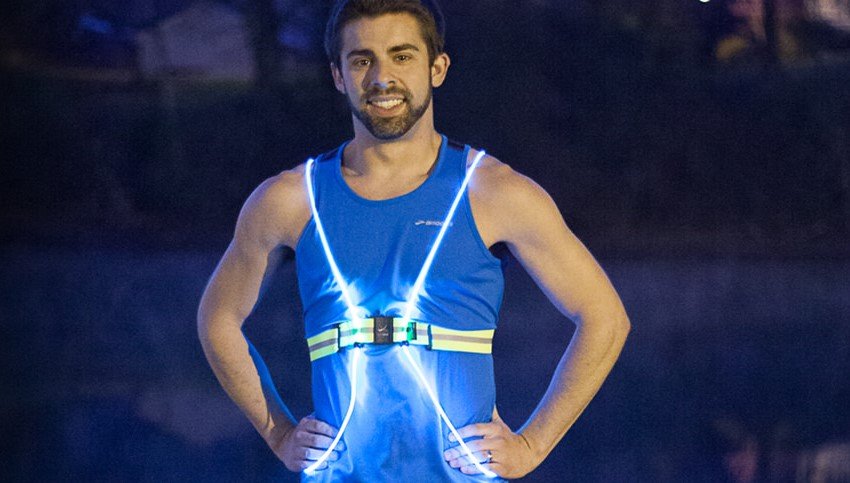 Meet Noxgear Runner Alex Brown
Alex is a converted sprinter to a long distance runner. He has received national and regional recognition for his racing in high school, college and beyond. Alex is an energetic, avid runner and we are proud to have him representing Noxgear. He wears his Tracer360 for morning and night visibility on the roads and trails. His dog, Zeke, rocks the LightHound Visibility Vest.
Read more about Alex:
– Review of the Tracer360 & LightHound
– Background
– Personal Records (PRs)
– Races
Review of the Tracer360 & LightHound
During the Tennessee summer time, training in the day is simply not an option. It is too hot to get a good training effect. From the first time wearing the vest, I actually had a genuine feeling of safety. Headlamps and reflectors are simply not enough when running on winding county back roads at night. Cars simply do not see you until you are right there. With the Tracer360, you are clearly visible to everyone around you and it gives you the awareness that is critical to safety. I can run at night with a relaxed mind knowing that I am seen.
The LightHound is an amazing product as well. I can see Zeke at all times running through the woods at dusk as well as being visible running through the roads. Hunters have always been a serious concern of ours when I take him for a run with me. You simply just don't know where they are, and with a dog that blends in with the wildlife, you always worry if they will mistake him for something else. With the LightHound, he is easy to spot in the woods and there is no second guessing that he is a dog. It is the first time that I have felt that we are both safe, no matter where we are running.
I would recommend the Tracer360 and the LightHound to any person I meet. From the nocturnal athlete training for their next race, to the occasional walker on a sidewalk, this is the vest you must own. It is light, comfortable, and dependable. Mine has seen rain, sleet, snow, and a couple falls in the trails and it has held up amazingly. The LightHound fits perfectly on Zeke. The base rests well on his shoulders and it stays snug without any restrictions in motion. Being washable is a huge advantage too as we are regularly finding ourselves in the streams, rivers, and mud of the Smoky Mountains. There is no doubt that the vests withstand the test of time. A couple hundred miles down, and a couple thousand more to go!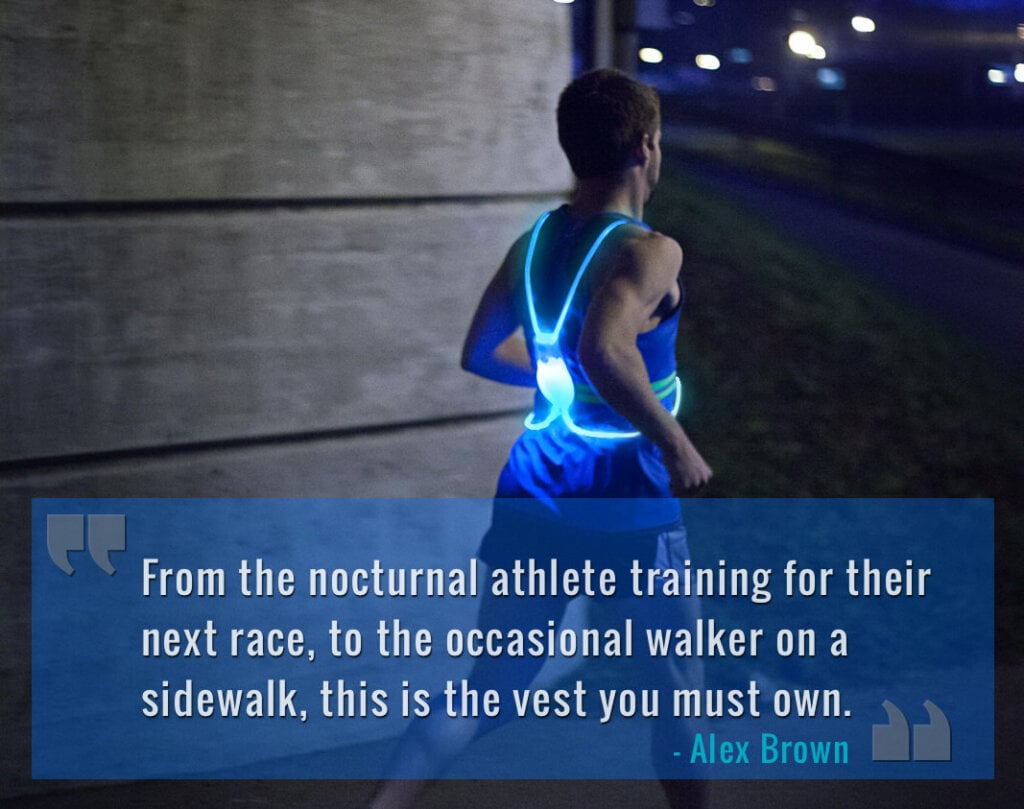 Background
During his high school career, Alex was one of New Hampshire's premier sprinters/hurdlers. During his senior year, he was ranked 38th in the nation for the 600 meter dash, 13th in New England for the 300 meter hurdles, and anchored the 4×400 meter relay team that placed 5th in New England. He was also awarded a spot on the New Hampshire 4×400 meter relay team that placed 5th at the USATF Indoor Championships.
He attended Southern New Hampshire University, where as a Penmen, he excelled in Cross Country and gained his love for distance running. By the end of his senior year, he owned 16 of the Top 20 fastest times in program history. After his four year tenure, he was named the Assistant Coach for the Penmen where he was privileged to coach aside his former coach, Jaime Gratton.
As the years progressed and after relocating to the country back roads of Eastern Tennessee with his wife, Alex has advanced to longer distances, mainly the Half Marathon to 50 Mile races. He enjoys racing in the sport of Canicross with his beloved dog, Zeke. As a team, they have won several titles, including the 2015 GoPro Mountain Games 5K Canicross Trail Race in Vail, Co. After a strong year of training, Alex is aiming to have a very productive racing year. He is ecstatic to be part of the Noxgear team and proudly represents both the Tracer360 and LightHound vests.
Personal Records (PR)
50 Mile – 9:51:11
Marathon – 2:52:28
Half Marathon – 1:18:35
10 Mile – 58:31
5 Mile – 26:07
5K – 15:42
Mile – 4:24
Races
6/21/2014 – Smokey Mountain Service Dog 5K, Lenoir City, TN – 1st Place – 15:42, Course Record
5/17/2015 – Race 13.1 Knoxville Half Marathon, Farragut, TN – 1st Place – 1:23:31, Course Record
6/5/2015 – GoPro Mountain Games Rock Dog 5k Trail Race, Vail, CO – 1st Place – 17:18, Course Record
8/22/2015 – Waneysville Main Street Mile, Waynesville, NC – 1st Place – 4:29
10/31/2015 – Race 13.1 Nashville Half Marathon, Nashville, TN – 2nd Place – 1:20:33