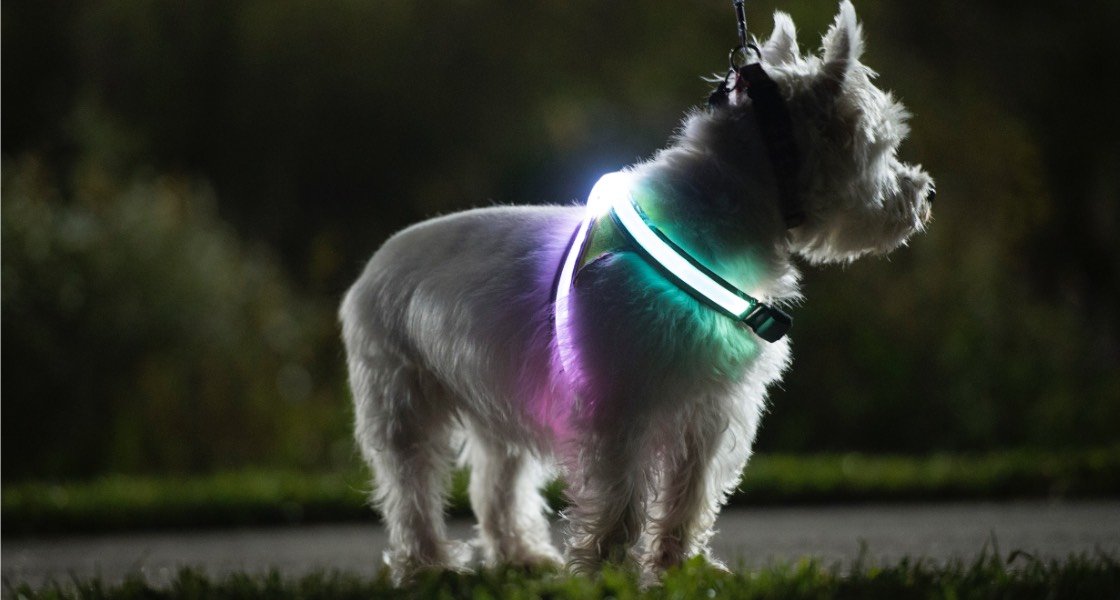 LightHound awarded best LED dog harness ever! (DogLab)
It's official. DogLab declared Noxgear LightHound the brightest, longest-lasting, comfortable dog harness available, hands down. Nothing else comes close.
Hi, I'm Chelsie. I'm the reviewer who put the LightHound harness to the test in the ever-gloomy weather of Upstate New York. If you are from around here and walk your dog on a wintery night, you know that visibility is near zero. So, an LED harness is a must.
After 500+ hours of testing, it quickly became apparent that the LightHound is the LED harness that you want. It outperformed in every area we tested.
The super-bright LED harness was visible up to 800 yards away, no matter what direction my dog was facing. Despite her best efforts, my black dog could no longer hide in the dark when it was time to leave the park on our nighttime walk.
But most importantly, the LightHound made me and my pup clearly visible to others. Walking alongside the road, cars noticeably slowed when they saw us – there is no missing the dazzling LED lights.
Even when not lit up, the LightHound increases the visibility of your pup. The reflective strips brightly shimmered when hit by street or car lights.
Then, there is the customizability. With the LightHound, there are a variety of colors and flashing modes to choose from. Every other LED harness we tested only offered a single color choice. As a side note, I used this feature to bribe my young daughter out for walks. If she came, she could choose the color. It worked every time.
And, all this comes without sacrificing comfort. I tested the same LightHound size on a variety of different medium-sized dogs, some with broad chests, others narrower. I was able to get a comfortable fit on all of them, no chafing!
I knew the LightHound was something special when it was the last one standing during our rigorous testing. Yep, all other LED harnesses we reviewed broke in one way or another – the wet weather of Upstate New York isn't gentle! But even after being battered by the elements, the LightHound shined brightly.
Don't settle for anything less!
For more information, click here to see the full review.