Wearable
Bluetooth Speaker
39 grams – lighter than a pack of gum

Hands-free music & calls

Secure, no-bounce attachment

More comfortable than earbuds
Ditch your Earbuds

The Best Way to Listen
SoundTrack Your Day
Music and calls wherever you go.
Perfect Placement
Patented, built-in magnetic clip secures your 39g through shirts, jackets, hoodies, and more. Looks Like Magic — Works Like A Charm.
Tough as Nails
Built to withstand drops, scuffs, bangs and the occasional kick.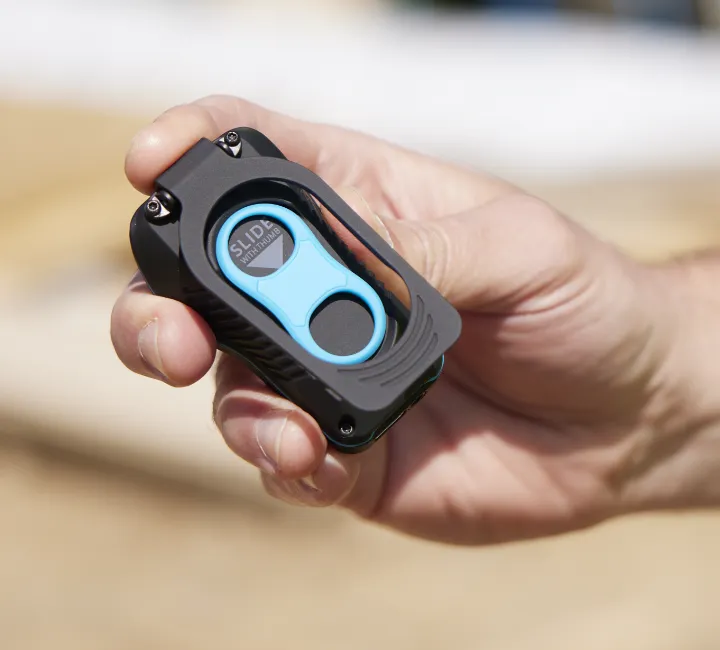 Clip Quickly
Opens with one hand to quickly clip to your collar, backpack or any place that clips go!
Large Audio Controls
Easy to operate buttons, even with gloves.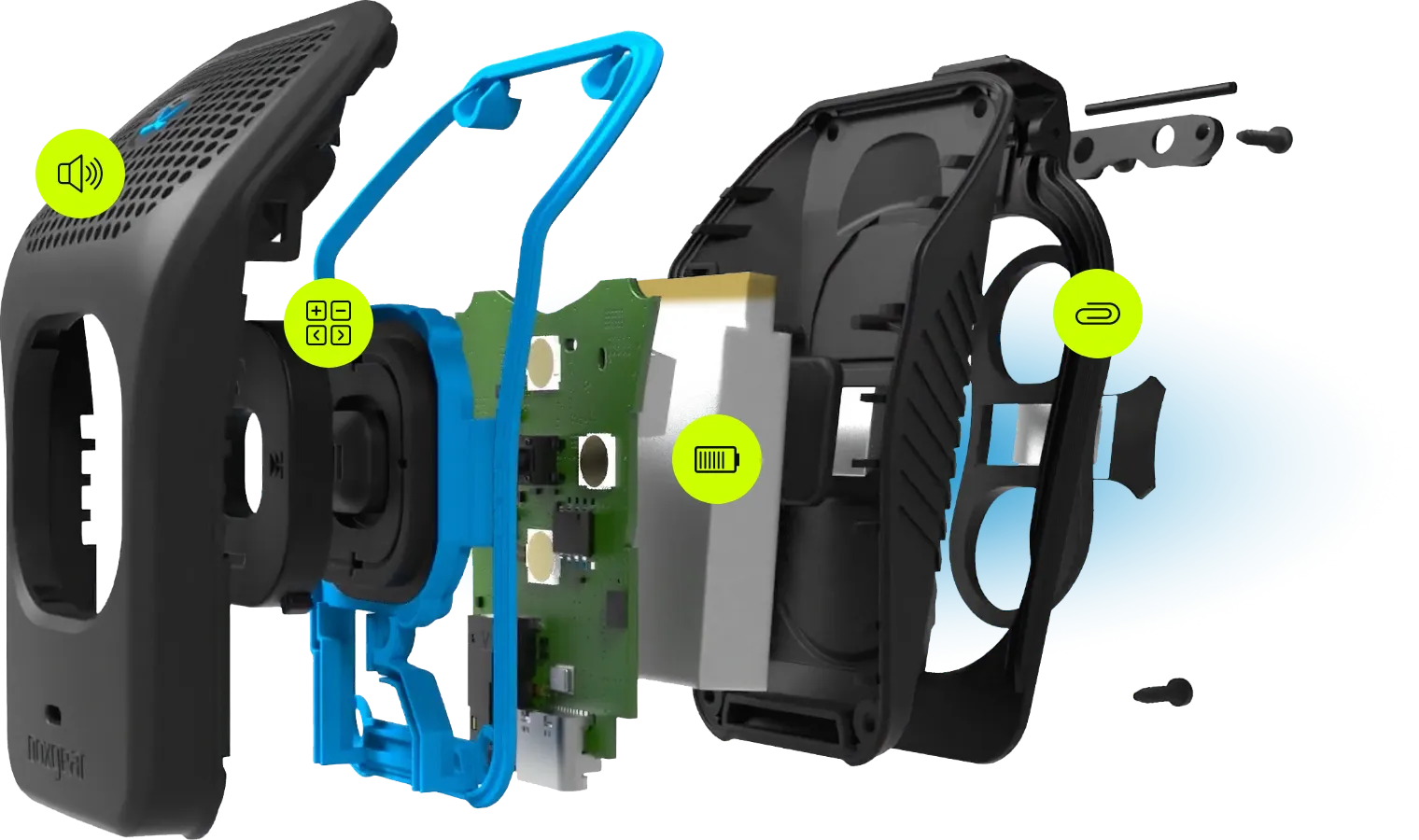 Features
FAQs
What are its dimensions?

The 39g is 2.6" in length, 1.6" wide with a 0.9" depth (max) (and weighs only 39 grams or 1.4 oz.)
Won't others around me get annoyed with my music?

When you wear the 39g near your neck and listen at a comfortable volume, others standing just feet away won't even know it's on. But if you want to blast it for an entire group, it's got enough power to do that too. But in that case, you might not want to wear it too close to your head.
Is it waterproof?

Yes! IP-67 rated, meaning it's fine to be splashed or submerged up to 3 feet. Though keep in mind that it won't sound too great while it's underwater.
How long does the rechargeable battery last?

Battery life varies based on the volume setting. At a comfortable volume with the speaker worn on your upper body, around 12 hours. At maximum volume, closer to 4 hours.
Why would I use the magnetic clip? How does it work?

The built-in magnetic clip gives you the freedom to wear the 39g practically anywhere on your clothing, not just on a collar or strap. This ability is especially handy with ¼ zip jackets and hoodies. Just slide the low-profile magnetic clip downward to remove, place it on the inside of your clothing, position the speaker over the magnetic clip and let them snap in to a secure fit.
Does it have internal storage?

No. Audio can only be played through the speaker from a source device using a bluetooth connection.
What else can this thing do?

The 39g has some additional functions that you might have missed in the product manual!

When a call is incoming, press the play pause button to answer the call, or HOLD the play/pause button to cancel an incoming call (send to voicemail).

While on a call, HOLD the Backward button (|<<) to mute the call (silence your microphone). HOLD again to unmute.

The following button combinations can be input while the 39g is idle (on but not actively playing media or connected to a call).

HOLD Play/Pause and Volume up (+) to hear the current battery level.
HOLD Play/Pause and Forward (>>|) to toggle the blue LED indicator on/off.
HOLD Play/Pause and Volume down (-) to forget paired devices.
HOLD Play/Pause and Backward (|<<) to disconnect from the currently paired device (does not forget the pairing).
39g
Save 40%
Fast Shipping
Ships from USA
Estimated Delivery:
Buy 2+, $53.95 ea.
---
Get it as soon as tomorrow.
Designed in Columbus, Ohio
45 Day Money-Back Guarantee
12 Month Warranty
Technical Specs
Power:
Output power: 4 W
Drivers: N52 Neodymium
Battery:
Play time: Up to 15 hrs (depends on use)
Battery capacity: 560 mAh
Time to full charge: 2.8 hrs
Charge cable: USB-C (included)
Control & Connection:
Bluetooth® version: 4.2
Touch Controls: Call, Track, and Volume
Headphone Output: 3.5mm audio plug
Durability:
Waterproof: IPX7 rating
Additional Features:
+ Use as an intermediary to control non-Bluetooth home speakers from your phone
+ De-tether headphones from your phone with built-in headphone jack
+ Listen to music or take calls without needing access to your phone (Speakerphone w/ integrated mic)
+ Mechanical attachment clip
+ Slide-off magnetic attachment clip
+ Auto-power off
Related Products