Multi-Colored
Be choosey, or not. Your Tracer2 comes equipped with 8 multi-color flashing modes and 8 single & new dual-blend color modes. Match your colors to your mood, or coordinate your whole crew.
Waterproof
Fear neither rain nor storm. With an IP67 Rating, Tracer2 sports total protection from rain, splashes, and even (accidental) submersion.
Secure Fit
Engineered to fit better than ever, Tracer2 features an adjustable chest strap and new Fit Clip system to keep fiber optics bounce-free for a weightless, natural feel.
Rechargable
Our most requested feature. Tracer2 leaves traditional batteries in the dust with quicker, greener USB-C charging and a smart LED charge-indicator. (Cable included)
Additional Features
All-Season Durability

Built to withstand rain, snow, and hot & cold temperatures

Battery Life

Up to 20 hours of lasting rechargeable battery life

Featherweight

Weighing in at just 7oz you'll forget it's there, but drivers won't

Reflective & Fluorescent

Custom 3M reflective patterns & fluorescent chest-band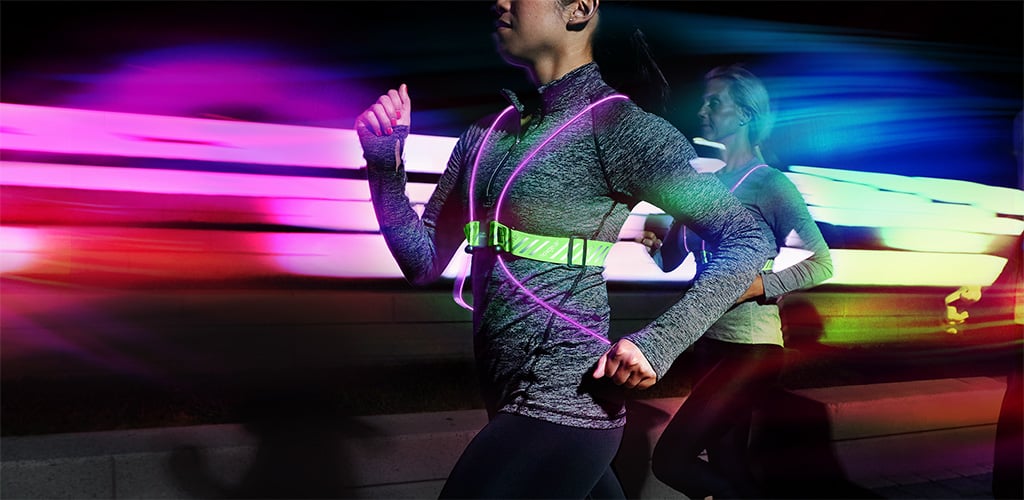 Maximum Visibility

Built with Visual Science
8 Multi-Color Flashing Modes

Maximum visibility means grabbing attention. With the flashing settings on Tracer2, we built in light patterns that are scientifically-proven to stand out and make you extremely visible on the roadways.

8 Solid/Dual Color Modes

Let your colors shine utilizing Tracer2's solid color modes to provide a consistently bright color of your choosing. Or use both your favs with the new dual blend color mode.

Always Bright Illumination

Unlike other LED gear that dulls the longer they're used, Tracer2 is equipped with patented technology to ensure your vest stays ultra-bright and ultra-visible, even on low battery.
Find Your Fit

Size Chart
Tracer2 Size Chart
For an optimal fit, measure and wear under your chest as shown:
Tracer2 Size
Chest
Men's
t-shirt
Women's
t-shirt
S
25" - 36"
XS, S
XS, S, M
M / L
27" - 40"
M, L
L
XL
29" - 44"
XL, XXL
XL, XXL
About that jacket...
No need to worry about the fit over coats and jackets. Tracer2's chest belt is adjustable and elastic so it fits over seasonal clothing and small accessories like hydration packs.
Tracer
2
$49.95$83.25
Buy 2+, $42.45 ea.
Fast Shipping
Ships from USA
Estimated Delivery:
tracer2
Get it as soon as tomorrow.
Buy On
What's in the box
Tracer2 comes with everything you need to get unboxed and on the road. Your Tracer2 comes with: light nexus unit with fiber optic shoulder bands and built-in fiber management clips, adjustable high-visibility fluorescent chest-band, and a USB to USB-C charging cable.
Technical Specs
Power:

Light Source:

4x CREE LEDs

Battery:

Run time (regular use):

20 hours

Time to full charge:

2.5 hours

Charge cable:

USB-C (included)

Weight:

Durability:

Additional Features:

Charge-level indicator LEDs

Fit Clip for fiber optic management

Adjustable fluorescent/reflective chest-belt

8 multi-color flashing modes

8 solid and dual color modes